Welcome to cincinnati Infrared services
Electrical Infrared Thermography
Cincinnati Infrared helps customers prevent failures of electrical equipment by performing Infrared Inspections
Keeping your Power On and your Workers Safe℠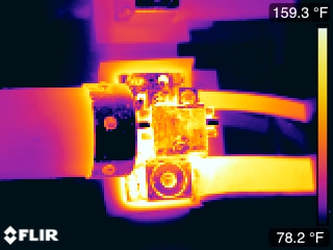 Whether you are repairing or installing electrical equipment or performing periodic inspections and maintenance,
Cincinnati Infrared Thermography Services
can help by using a non-contact, non-destructive test method known as an
Infrared Inspection. Infrared Scans
are used to detect and document thermal patterns and associated temperatures in electrical systems and components.
Click here to see our WORK.
​
​
Infrared Thermography Helps With:
IR testing provides an opportunity to perform minor repairs before large problems occur. Regular inspections ensure compliance with insurance regulations and keeps premiums low.
Equipment Acceptance Testing
Professional Infrared Inspections of new equipment helps meet installation requirements and ensures smooth operations.
Repair Verification/Compliance
Verify that repairs were performed adequately and equipment is safe for workers to operate with IR Thermography Scanning.
Yearly, Quarterly, or Monthly Thermographic Inspections enables your team to catch developing electrical issues before they become problems affecting power and safety.
Periodic Condition Assessments
Don't know the condition of your electrical equipment and components? Perform an Infrared Inspection to evaluate your equipment's status. We can also recommend repair solutions through our sister company All-Test & Electric Service.
Click Here to get ahold of All-Test
---
Serving the Greater Cincinnati​ Area
Call Cincinnati Infrared today at 513-446-5644 or send us a message through our
​
Contact Page.
Keeping your
Power ON
and your
Workers Safe℠

​Think Your Electrical System is Hazard Free?